Morris County CART
Who we are: New Jersey's County Animal Response Teams (CARTs) are a group of volunteers that are trained emergency responders for disaster events in a county. Examples of disaster events include natural disasters, such as hurricanes, and man-made disasters, such as gas explosions. These events could require evacuation and sheltering of residents in an affected neighborhood or region.
What we do: CARTs provide appropriately trained staff to operate and manage an animal shelter for the pets of evacuated residents. These are temporary pet shelters associated with a disaster event and are not shelters for stray or surrendered animals.
Who to contact: Small animal complaints or related public safety concerns, such as loose animals or animal bites, should be directed to your local animal control office or police department. Livestock welfare complaint concerns should be directed to the New Jersey Department of Agriculture at https://bit.ly/3nLJSCp. CARTs are not responders for local animal or wildlife issues.
Animal Medical Emergencies: Any animal medical emergency needs to be directed to a licensed veterinarian. CARTs are not responders to medical emergencies of animals.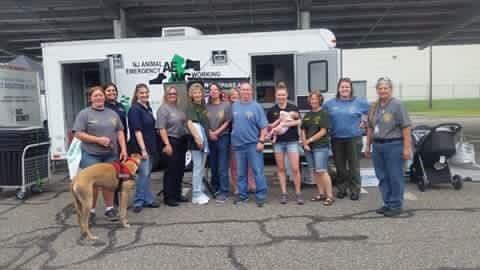 Morris County Animal Response Team
Mission Statement: The goal of the Morris County Animal Response Team is to safely evacuate, transport, house and provide veterinary care to animals in need during times of disaster. MCART also reaches out to the community to educate the public on proper preparedness during disaster for people and their pets. MCART members are encouraged to participate in community-based events to spread awareness and prepare the public in the event of an emergency.
We are an organization that has compassion and passion to care for animals in times of need. We are a county agency made up of volunteers. Although our resources are limited, our love and dedication makes us the best at what we do; taking care of animals in their times of need and providing families with the peace of mind that their animals are being taken care of safely and compassionately.
Morris County CART Contact:
CART Director
Meredith Petrillo
Phone: 973-627-4900 ext 5
Email: mpetrillo@denvillepolice.org
CART Assistant Director
Korinne Klug
Phone: 201-874-4634
Email: rinpetrillo@hotmail.com
Morris County OEM Contact:
Morris County Office of Emergency Management Coordinator
Jeffery Paul
500 West Hanover Ave
Parsippany, NJ 07054
Phone: 973-829-8600
Email: jpaul@co.morris.nj.us
Facebook:
https://www.facebook.com/MorrisCountyAnimalResponseTeam/