Somerset County CART
Who we are: New Jersey's County Animal Response Teams (CARTs) are a group of volunteers that are trained emergency responders for disaster events in a county. Examples of disaster events include natural disasters, such as hurricanes, and man-made disasters, such as gas explosions. These events could require evacuation and sheltering of residents in an affected neighborhood or region.
What we do: CARTs provide appropriately trained staff to operate and manage an animal shelter for the pets of evacuated residents. These are temporary pet shelters associated with a disaster event and are not shelters for stray or surrendered animals.
Who to contact: Small animal complaints or related public safety concerns, such as loose animals or animal bites, should be directed to your local animal control office or police department. Livestock welfare complaint concerns should be directed to the New Jersey Department of Agriculture at https://bit.ly/3nLJSCp. CARTs are not responders for local animal or wildlife issues.
Animal Medical Emergencies: Any animal medical emergency needs to be directed to a licensed veterinarian. CARTs are not responders to medical emergencies of animals.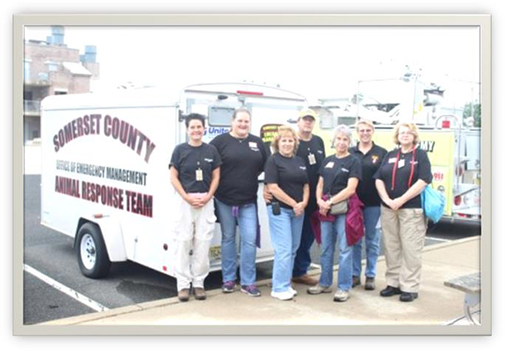 Mission Statement:
The mission of the Somerset County Animal Response Team (Somerset CART), a division of the Somerset County Office of Emergency Management (OEM), is to recruit and train volunteers to mobilize a plan through collaborative effort to safely evacuate and shelter animals that are displaced by any disaster requiring such measures in the County of Somerset.
Somerset County CART Contact:
Sherri Lynn
animalresponseteam@co.somerset.nj.us
Somerset County OEMContact:
Deputy OEM Coordinator
Brielle Schulz
402 Roycefield Rd
Hillsborough, NJ 08844
908-541-5680
schulz@co.somerset.nj.us
Website: www.co.somerset.nj.us/cart
Contact Information:
Somerset County Office of Emergency Management - County Animal Response Team (CART)
402 Roycefield Road
Hillsborough, NJ
animalresponseteam@co.somerset.nj.us
www.co.somerset.nj.us/cart
908-725-5070
Meeting dates and times:
Last Tuesday of every month – no meeting in December. 6:30 pm at the Emergency Services Training Academy (ESTA) 402 Roycefield Rd. Hillsborough, NJ
Way for volunteers to get involved: To join the team, call, e-mail or attend a monthly meeting. Or for more information, visit us on the web at www.co.somerset.nj.us/cart