Preparing for an Emergency/Disaster
Click here to find your local County Animal Response Team (CART) or local Office of Emergency Management.
Find Animal Emergency Assistance
Use this interactive tool to help find resources for before, during and after disasters in New Jersey. You will be able to locate animal shelters, veterinary hospitals, fairgrounds, feedstores, Offices of Emergency Management, racetracks/show facilities, and Rutgers Cooperative Extension offices. You simply type in your current location or specify any location you're interested in and you will find results.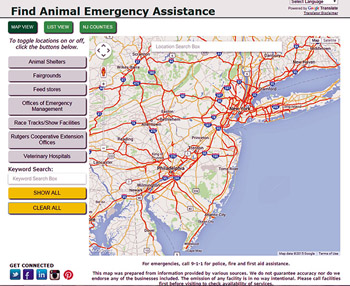 Livestock
Pets
Finding Shelter for Your Pet/Pet Friendly Lodging