Veterans' Information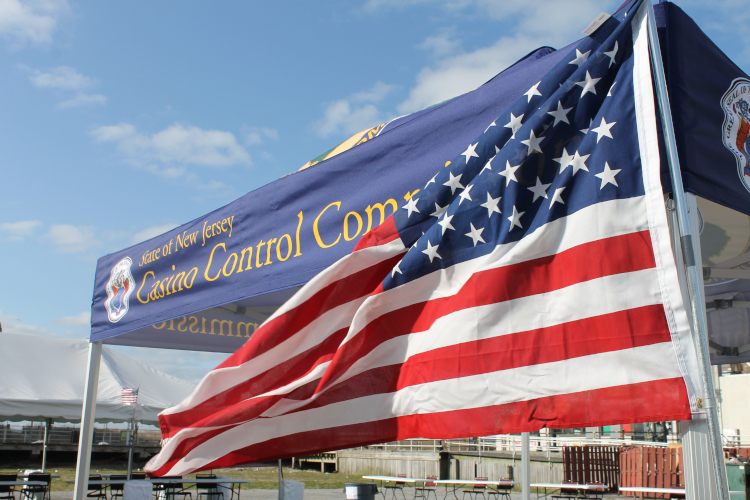 Veterans' Events
Date & Time
Event Name
Location

March 16,
11:00 a.m. - 3:00 p.m.

Community & Veteran Wellness and Resource Fair

Main Campus of Stockton University
101 Vera King Drive
Galloway, NJ 08205

March 23,
10:00 a.m. - 2:00 p.m.

Warrant Recall & Expungement

28 E Broad St.
Paulsboro, NJ 08066

April 27,
9:00 a.m. - 1:00 p.m.

Casino Career Fair

Casino Control Commission, Entrance A,
Tennessee Ave. & Boardwalk, Atlantic City

May 24,
10:00 a.m. - 3:00 p.m.

Atlantic City Regional Stand Down

All Wars Memorial
Bldg., 1510 Adriatic Ave., Atlantic City
Updates may be sent to communications@ccc.nj.gov (see Conditions of Use)
Casino Career Fair - 2023
Atlantic City casinos seek to hire over 1,000 at annual Casino Career Fair, with more than 450 full time jobs available!
The NJ Casino Control Commission hosts a Casino Career Fair every April at its
offices in Atlantic City
with support from the N.J. Casino Reinvestment Development Authority. This year's event is scheduled to take place
indoors
on
April 27 from 9:00 to 1:00 p.m.
Proper social distancing and health protocols will be observed.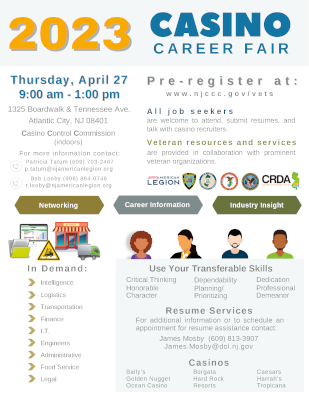 Since its inception in 2018, a mainstay of this annual event has been its focus on Veterans of the United States Armed Forces and the broad opportunities that exist for Veterans and their family members to participate in the New Jersey casino industry. Veteran resources and services are provided in collaboration with the American Legion, N.J. State Parole, N.J. Department of Military and Veterans Affairs, and other prominent veterans organizations. Veterans and their family members are welcome to pre-register in advance.
Click Here to Pre-register.
Veterans are also encouraged to explore and apply directly to casino career opportunities on-line at any time.
Apply directly for career opportunities: