Early Literacy Initiative (SISEP)
Our Vision. In New Jersey, all students will have access to equitable, high-quality, evidence-based instructional and behavioral practices to achieve academic excellence and self-actualization.
Our Mission. To build state, regional, and district capacity in the adoption, integration, and implementation of evidence-based instructional and behavioral innovations that are effective and sustainable to enhance student learning outcomes.
Initial Focus. The use of implementation science to build state, regional, and district capacity in the adoption, integration, and implementation of evidence-based instructional practices in early literacy that are effective and sustainable to enhance student learning outcomes.
"Students who experience difficulty acquiring proficient literacy skills, a central factor at play is often underdeveloped phonemic awareness." Melby-Lervåg
Rationale for Phonemic Awareness Focus.
Positions students to achieve the alphabetic principle and build strong alphabetic decoding skills.

Identified priority early reading skills that must be taught explicitly.

Phonemic awareness and letter knowledge are the two best early predictors of how easily young children will acquire reading and writing skills (Ehri 2001).

Phonemic awareness assessment and instruction as essential evidence-based components of a comprehensive literacy program.

Anticipated Outcomes. By 2027, New Jersey will increase the percentage of students with IEPs in the Transformation Zone schools who score at or above benchmark on a district-selected literacy assessment tool by a minimum of 10% (compared to baseline) by the end of their third-grade year.
By utilizing targeted and comprehensive school data and the Implementation Science framework to identify schools, New Jersey will establish literacy "Transformation Zones" that receive intensive coaching and support in early reading.
The State Implementation and Scaling-up of Evidence-based Practices (SISEP) Center is a national technical assistance center funded by the U.S. Department of Education's Office of Special Education Programs.

The SISEP Center, a project within the National Implementation Research Network (NIRN), is housed within the FPG Child Development Institute at the University of North Carolina at Chapel Hill.

Goal is to support the implementation of instructional and leadership practices that lead to improved outcomes for students with disabilities.

Learn More About SISEP

HERE

.
"Implementation science refers to the "methods or techniques used to enhance the adoption, implementation, and sustainability" of a program or practice." -Eccles & Mittman, 2006
Successful implementation takes intentional planning and time.

Implementation is not an event but a process involving multiple decisions and actions.

Change at the site, local, community or state level resulting in improved outcomes does not occur all at once.

The implementation process and trajectory can be predicted and shaped using a stage-based approach.

Visit the

Active Implementation Hub

to learn more.
Stages of Implementation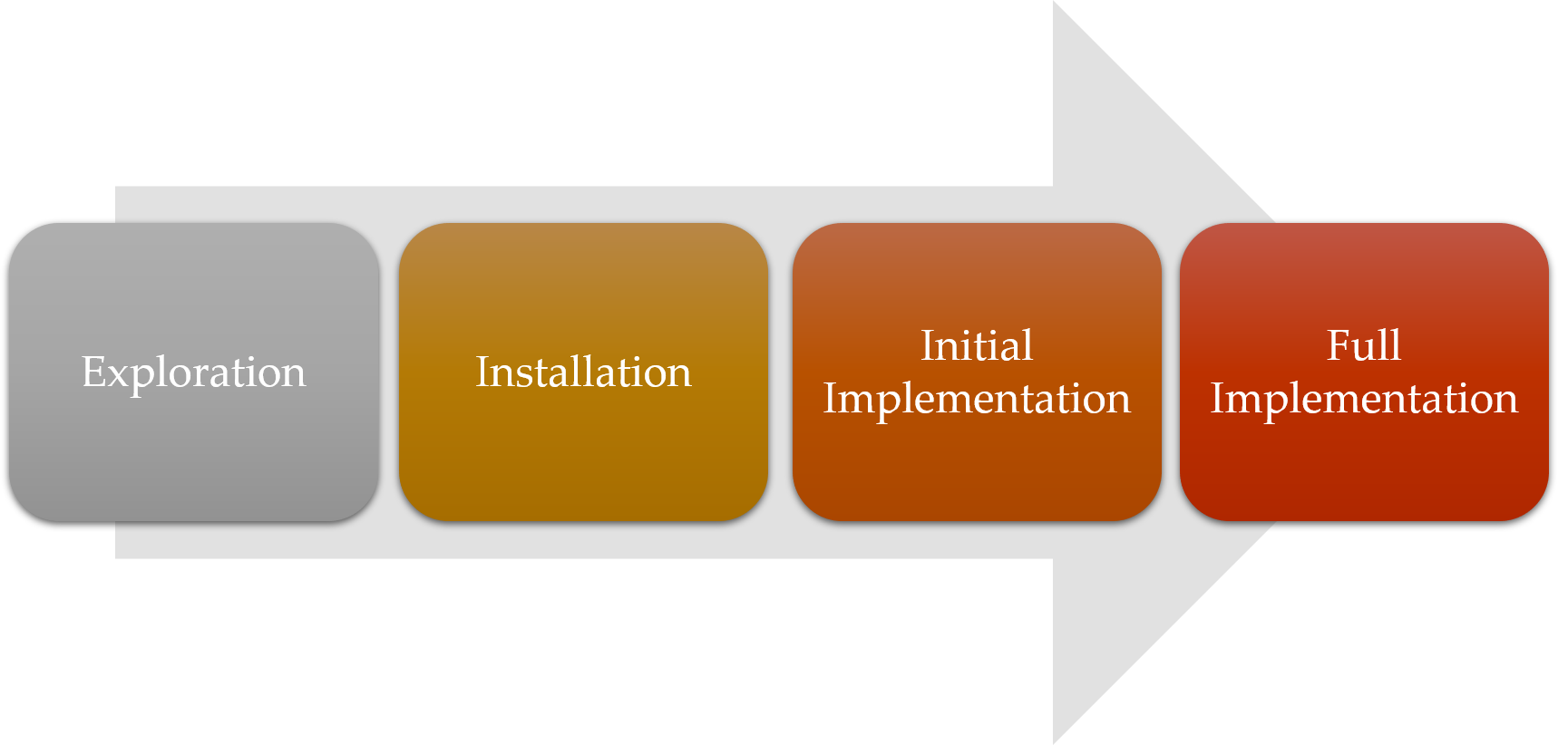 Exploration – identifying the need for change, learning about possible innovations that may provide solutions, learning about what it takes to implement the innovation effectively, developing a team to support the work as it progresses through the stages, growing stakeholders and champions, assessing and creating readiness for change, developing communication processes to support the work, and deciding to proceed (or not).
Installation – securing and developing the support needed to put a new approach or practice into place as intended, developing feedback loops between the practice and leadership level in order to streamline communication, and gathering feedback on how new practices are being implemented.
Initial Implementation – the first use of an innovation by practitioners and others who have just learned how to use the innovation. Initial implementation is about trying out those new skills and practices and getting better in implementation.  In this stage, we are gathering data to check in on how implementation is going and developing improvement strategies based on the data.  Implementation supports are refined based on data. For example, we might find that a new skill educators are using as part of social and emotional development could be further strengthened by additional coaching from an expert; so we would think about how to embed these strategies into ongoing coaching opportunities, and how we would gather data on if the coaching is leading to the improved use of this skills.
Full Implementation – the skillful use of an innovation that is well-integrated into the repertoire of practitioners and routinely and effectively supported by successive program and local administrations
Visit the Active Implementation Hub to learn more.