Every decade, the Healthy New Jersey initiative develops a new set of evidence-based, 10-year objectives with the goal of improving the health of all New Jerseyans. The development of Healthy New Jersey 2030 (HNJ2030) includes establishing a framework for the initiative, determining topic areas to organize the project, developing goals, creating action plans, identifying new objectives, setting targets values, and implementing action plans to achieve those targets by the end of the decade.
The development of HNJ2030 is a multiyear process with input from a diverse group of subject matter experts, organizations, and members of the public.
We will continue to share new information as it becomes available. Subscribe to HNJ News to be emailed about updates.
Goals, action plans, objectives, and targets
Collectively, the action plans will become the next State Health Improvement Plan and the objectives will be used for State Health Assessment.
Action Teams

Refined the scope of and determined the focus issues for the four Topic Areas.
Identified relevant health improvement action plans already in use in New Jersey.
Assessed the published plans collectively to identify gaps.

Community Conversations

Gathered, documented, and analyzed the personal accounts of more than 580 New Jersey residents to collect crucial information from priority populations around the state about how they were and are affected by COVID-19.
Four broad Topic Areas and three cross-cutting issues were established by the HNJ Advisory Council in October 2019.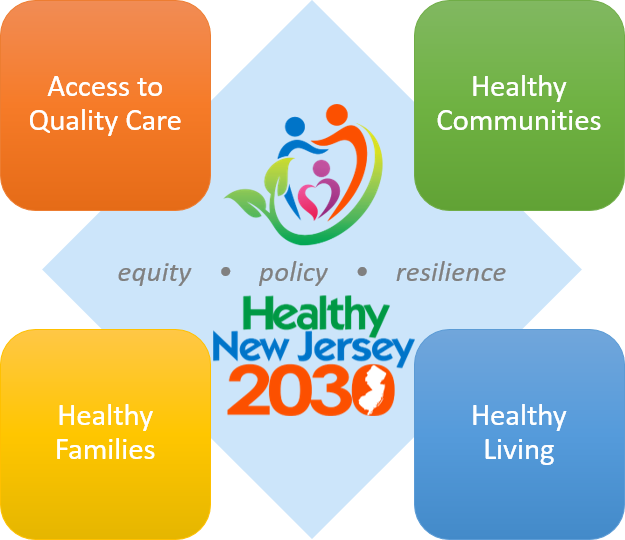 The framework explains the central ideas and function of the Healthy New Jersey 2030 initiative and it will guide the selection and prioritization of 2030 objectives. It is adapted from the Healthy People 2030 Framework and was adopted by the HNJ Coordinating Committee in March 2019.
Review the Healthy New Jersey 2030 framework: Graphic (JPG) Text (PDF)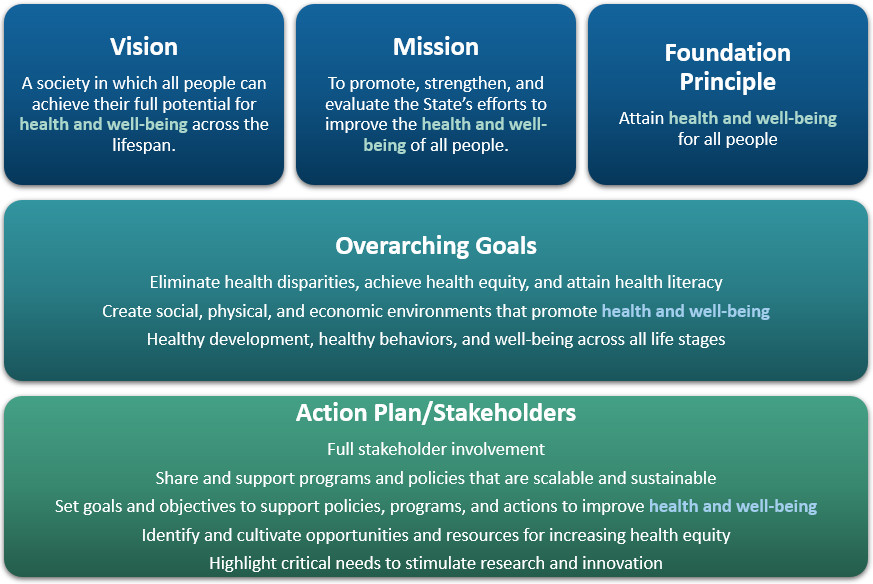 Overall, New Jersey is considered one of the healthiest states in the nation.1 Progress in reducing health outcome differences between various populations is also being made. For example,
However, New Jersey still faces challenges with health disparities. Healthy People 2020 states, "Health disparities adversely affect groups of people who have systematically experienced greater social or economic obstacles to health based on their racial or ethnic group, religion, socioeconomic status, gender, age, or mental health; cognitive, sensory, or physical disability; sexual orientation or gender identity; geographic location; or other characteristics historically linked to discrimination or exclusion." The Robert Wood Johnson Foundation asserts that health disparities exist when good health is not experienced evenly across communities and are due to differences in key determinants of health, such as education, safe housing, and discrimination, which adversely affect marginalized or excluded groups. These disparities can lead to excess morbidity and mortality for these diverse populations.
Health equity is attained by reducing and ultimately eliminating disparities so that everyone has a fair opportunity to achieve their full potential for health and well-being across their lifespan.
Check this website and subscribe to the Healthy New Jersey listserv to receive the latest news and announcements on the development of Healthy New Jersey 2030.