Office of Education on Self-Directed Services

The Office of Education on Self-Directed Services provides a centralized place for the delivery of education and training for people with intellectual and developmental disabilities receiving services, their families, advocates, support coordinators, interested community partners and other internal and external stakeholders. The Office does not replace your Support Coordinator in planning, but serves as an additional support to help people understand how self-directed services can work if chosen by the individual.

The Office houses subject matter experts on best practices in self-directed services and is available to provide technical assistance and education. The subject matter experts are focused on educating people and their families as they choose to self-direct their services. They are committed to establishing the most person-centered process as well as educating stakeholders and other community partners so that all people have the ability to achieve their desired outcomes. This is accomplished through:
Education utilizing guidance and tools on the benefits and responsibilities of self-direction.
Facilitation of networking meetings with individuals, families, self-advocates, providers and other interested parties.
Providing technical assistance for Support Brokerage services to agencies seeking to provide the service and to families seeking to utilize it.
Engaging in work to better integrate information on self-directed services into the Division's service system.
In order to access The Office of Education on Self-Directed Services email DDD.OESDS@dhs.nj.gov.
To see a listing of available Networking Sessions please click here.
You can also visit the Self-Directed Services/Self-Direction page for more information.
Person-Centered Planning
Person-Centered Planning
Person-centered planning is a process for selecting and organizing the services and supports that a person with a disability may need to live, work, and recreate in the community. The purpose of person-centered planning is to discover what a meaningful life looks like for the person and to identify the supports, both paid and unpaid, they need to achieve that life.
It is important to remember that person-centered planning is, at its core, about the person who must always be at the center of the planning process.
Person-centered planning works for people of all ages and abilities. It is not something you do to or for a person; instead, the planning process is directed by the person, with just the right amount of support from family members, a support coordinator, peer educator, or other independent staff who the person wishes to include in the creation or refinement of their plan.
A successful person-centered plan will:
Remain strengths-based, culturally informed, and whole-person focused.
Achieve balance between what is important to the person and what is important for the person.
Clearly reflect the person's goals and outline a plan to achieve them, as well as how to monitor progress.
Help cultivate connection, both within the system and larger community.
Protect and preserve the person's rights, including the right to choice, control, and freedom from coercion.
Focus on partnerships, respectful communication, and collaboration.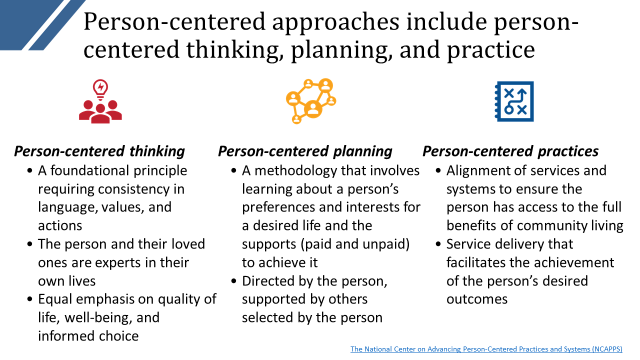 Person-Centered Planning Resources
To learn more about person-centered planning, we invite you to review the resources below.
For People and Families
For Direct Support Professionals and Self-Directed Employees
For Support Coordinators
National Center of Advancing Person-Centered Practices and Systems (NCAPPS) Self-Directed Learning Collaborative

New Jersey's Membership in NCAPPS Self-Direction Learning Collaborative
New Jersey is a proud member of the National Center on Advancing Person-Centered Practices and Systems (NCAPPS) Self-Direction Learning Collaborative.
NCAPPS is an initiative from the Administration for Community Living and the Centers for Medicare & Medicaid Services that helps States, Tribes, and Territories implement person-centered thinking, planning, and practice in line with U.S. Department of Health and Human Services policy.
New Jersey is one of 23 teams that were accepted into the NCAPPS Self-Direction Learning Collaborative (SDLC). The SDLC brings together teams from 16 states to engage in peer-to-peer learning. The teams collaborate to learn about, test, and implement specific systems change efforts focused on the global aim of enhancing the availability, quality, and access to self-direction. They are guided by best practices and structured to promote and accelerate local efforts.
Current Goals & Priorities
Each state team has chosen one or more focus areas to pursue. New Jersey's specific goals include:
Permanently weaving the principles and practice of Self-Direction into New Jersey's service delivery system;
Promoting the incorporation of Person-Centered Practices into all facets of our work;
Providing ongoing education and networking opportunities for individuals and families who are Self-Directing some or all of their services;
Recognizing the valuable insights of people utilizing services and create opportunities to both amplify the voices of self-advocates and incorporate the lessons, goals, and needs of those with lived experiences into our collective work;
Developing and disseminating accessible, plain language resources on Self-Direction for people using services, family members, and professionals to learn about its benefits and how it works;
Engaging in ongoing cultural competency skill building to ensure that we are participating ethically, equitably, and effectively in personal and professional intercultural settings
New Jersey's SDLC Stakeholders & Member Organizations
Self-Advocates
Family members of people with I/DD
The Boggs Center on Developmental Disabilities
The New Jersey Council on Developmental Disabilities
Community of Practice for Supporting Families

New Jersey: The National Community of Practice (CoP) for Supporting Families
Since 2019, New Jersey has been a fully participating state member of The Community of Practice for Supporting Families and was the 19th state to be accepted to participate.
The Community of Practice for Supporting Families exists to enhance and drive policy, practice, and system transformation to support people with intellectual and developmental disabilities (I/DD) within the context of their families and communities.
Member states are committed to developing systems of support for families throughout the lifespan. In addition to receiving technical assistance, products, and opportunities for shared learning, member states are supported by a National Team to integrate innovative practices into existing and ongoing state systems change efforts. As an active state member in The Community of Practice, New Jersey strives to enhance best practices for supporting families and encouraging people with I/DD to live their best lives in their communities through utilization of Charting the LifeCourse Tools.
Goals & Priorities
New Jersey's goals for participation in the National Community of Practice center on people with disabilities and families being fully empowered to communicate their vision for a good life. We also challenge professionals and systems to ask questions, listen, and act on strategies to help people achieve personally meaningful outcomes.
Since joining the CoP, New Jersey's team has been successful in achieving goals in several key Focus Areas, including:
Laying the foundation for strong agency partnerships;
Using accessible, person-centered tools to shift the mindset about how supports are or can be utilized;
Launching an introduction to Charting the LifeCourse Tools and Community of Practice for Supporting Families principles to all Regional Family Support Planning Councils statewide;
Integrating Charting the LifeCourse principles across the system and focusing on cross-system communication;
Establishing a Stakeholders Workgroup and an Action Group for CoP activities.
More Information
Download the Aging and Disability State Alliance Team (SAT) Directory
Mercedes Witowsky: mercedes.witowsky@njcdd.org
Statewide and Regional Family Support Planning Councils, People First, Partners in Policymaking, advocate for issues that affect people with I/DD in their communities.
Patricia Brennan: patricia.brennan@dhs.nj.gov
Supports and services for individuals with I/DD >age 21, education on self-directed services, waiting list, special projects, Community of Practice for Supporting Families
Andrea Mancini: andrea.mancini@dhs.nj.gov
Administer programs solely state funded for individuals with Medicaid/Aging and Disability Resource Center (ADRC) services/Clinical assessment for Managed Long Term Supports and Services (MLTSS)