Payment Information
Once your application is approved, we will need your payment information.

IMPORTANT:
Errors in entering your payment information will result in a delay of your benefit payment.
Before selecting your payment method, please review the step-by-step instructions as outlined here: English and Spanish.
Tips:

Your approval notification includes your unique log in information to select a payment method.

Use the correct login information for your payment portal, this is not your application status information.

If choosing Check, make sure to confirm your address is correct. If it is not correct, please send an email with your corrected address to ExcludedNJFundQuestions@dhs.nj.gov.

If choosing Direct Deposit, you must enter the banking information correctly.




Find your bank routing and account number prior to selecting your payment method.

The routing number should be for ACH Direct Deposit payment.

You can find your routing number on a check, as it appears in the graphic below.

You can also contact your bank to confirm your routing number, your bank may have multiple numbers.

Do not enter a routing number for wire/international transfers.

Do not enter the number on your debit card, that is not your account number.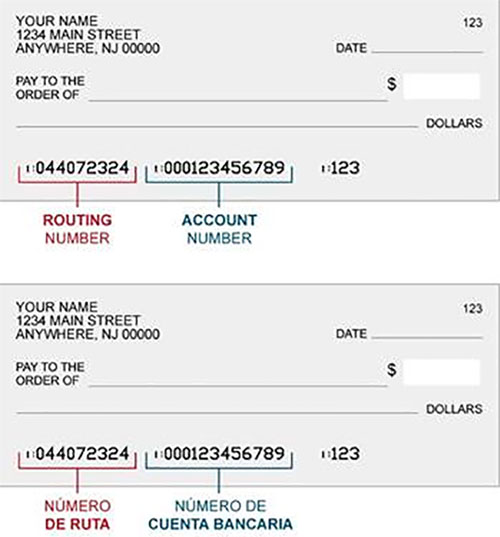 You can expect to receive your payment within approximately 2 -3 weeks after submitting your Payment Preference.
You will be notified when your payment is disbursed.
Missing Payment?
If you have received a notification that your payment was disbursed but have not received your benefit in 5-7 business days, please email us at ExcludedNJFundQuestions@dhs.nj.gov with "Payment Not Received" in the subject line and your application ID number and we will be in touch with you. If your application status is still 'Payment in Progress,' please wait for our disbursement notification prior to contacting us.
If you encounter any organization or entity seeking to charge money or solicit personal information to provide application assistance, please call 800-242-5846 to report potential fraud.