For a community to grow smart, it must implement strategies with strengthen its local economy while also protecting its natural resources. Holistic planning which recognizes a balance between appropriate forms of development with farmland and open space preservation efforts will minimize the need for taxpayer-funded infrastructure while simultaneously protecting the natural resources.
In an effort assist communities effectively incorporate the agriculture industry into the planning efforts, the NJDA has made available the following resources.
New Jersey Agricultural Smart Growth Plan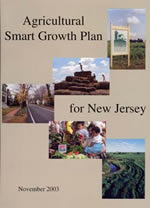 The Agricultural Smart Growth Plan recognizes the importance of agriculture in New Jersey. Productive farmland helps keep municipal taxes down, increases property values, benefits the environment, adds to a community's character, is part of the state's heritage, and ensures that New Jersey residents continue to have access to an abundant supply of locally produced fresh food and agricultural products.
The plan includes five linked components: Farmland Preservation, Innovative Conservation Planning, Economic Development, Natural Resource Conservation and Agricultural Industry Sustainability. These concepts make sense and together provide realistic and practical approaches to ensuring that as New Jersey continues to grow, its agriculture industry remains strong.
Smart Growth Tool kit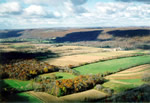 A "tool kit" of resources to help municipal governments, businesses, non-profit groups, and local citizens plan to retain agriculture in their communities along with the many benefits it provides. The user-friendly Tool Kit was developed to assist in achieving the goals and objectives outlined in the Agricultural Smart Growth Plan released by the Department in 2003. The plan provides realistic and practical approaches to ensuring that as New Jersey continues to grow, its agricultural industry remains strong.