TRENTON – Alongside administration officials, Governor Phil Murphy today signed a bill into law establishing a STEM Loan Redemption Program within the Higher Education Student Assistance Authority (HESAA). This program will provide graduates of New Jersey colleges and universities employed in STEM fields with $1,000 each year for a maximum of 4 years towards their student loans, which will be matched by the participant's employer. The Governor proposed STEM Loan Forgiveness during his gubernatorial campaign, in his Budget Message as part of his vision to grow the innovation economy, and had previously announced the initiative at the Stevens Institute of Technology.
"Providing relief to graduates of our world-class STEM degree programs has been a priority of mine since I began my campaign for elected office," said Governor Murphy. "I am pleased that the Legislature agreed with us on the need to ensure that current and future generations of highly-skilled workers and innovators are incentivized to live and work in New Jersey."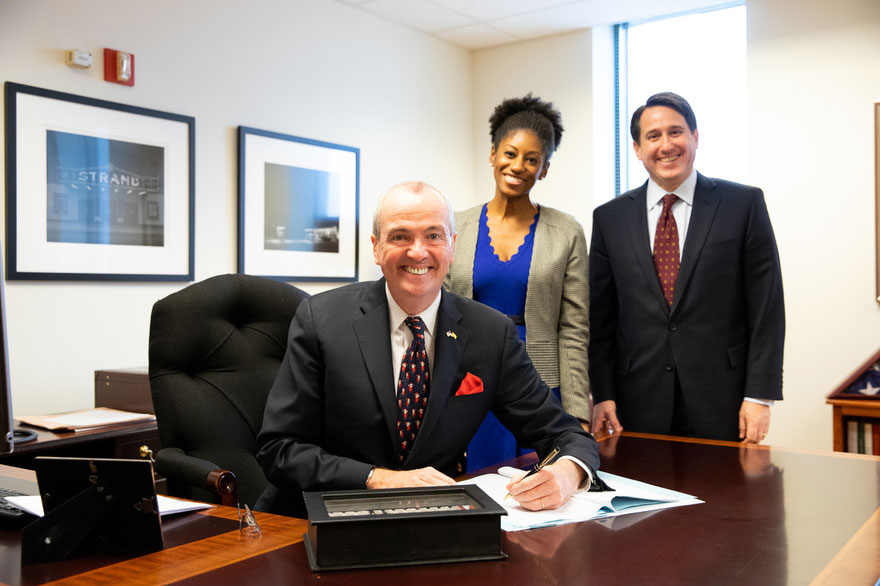 For eligibility in this program, applicants will need to:
Be a resident of the State and maintain residency during program participation;
Be a graduate of an approved STEM degree program at an institution of higher education located in New Jersey;
Have an outstanding balance on a qualifying student loan and not be in default on any qualifying student loan;
Have been employed full-time in a designated high-growth STEM occupation for a minimum of four years prior to initial application to the program and be employed thereafter for an additional one to four years in a designated high-growth STEM occupation;
Provide certification that the applicant's employer has agreed to annually provide the applicant at least a 100 percent match of the loan redemption benefit under the program during the applicant's participation in the program and employment in a designed high-growth STEM occupation; and
Satisfy any additional criteria the authority may establish.
Sponsors of the bill include Senators Paul Sarlo and Joseph Lagana and Assemblymen Andrew Zwicker, Raj Mukherji, and James Kennedy.
"Science and technology are at the vanguard of a growing economy, providing the research and development that will help sustain job growth and continued economic growth," said Senator Paul Sarlo, the chairman of the Senate Budget and Appropriations Committee. "We need to support STEM education so that New Jersey's students are offered the opportunities to acquire the skills and knowledge to compete in the modern economy and we need to do what we can to see that they are not burdened with unmanageable debt."
"With New Jersey producing such renowned inventors as Selman Waksman and trailblazing engineer Beatrice Hicks, this program helps create an environment where the next generation of inventors, scientists, engineers and other STEM professionals can thrive," said Assemblyman Andrew Zwicker. "While many students may have the mindset to pursue a STEM career, they may not always have the assets to do so. The STEM Loan Redemption Program was designed to help these students, many of whom come from families of modest means."
"Unfortunately, many promising students shy away from STEM careers, because they fear exorbitant student loan debt upon graduation from college," said Assemblyman Raj Mukherji. "The signing of this legislation will help alleviate some of those misgivings."
Interested students can visit the Higher Education Student Assistance Authority website for more information. Due to the required employment commitment, the first applications for STEM loan redemption will be accepted in December 2022 and first redemption payments will be issued in December 2023.
To encourage STEM field employment, Governor Murphy has also announced the creation of the NJ Career Accelerator STEM Internship Program. High school, college, and university students should apply here: https://nj.gov/labor/internships/NJSTEM_Internship.html