New Jersey Citizen Corps

New Jersey Citizen Corps volunteers help their communities prepare for and respond to all types of disasters through education, training and volunteer service. Based on the tradition of "neighbor helping neighbor," Citizen Corps programs build strong communities, enhance the capabilities of  emergency services organizations, and empower individuals to act responsibly and respond appropriately during critical times.
There are over 10,000 Citizens Corps volunteers in 208 New Jersey communities. These dedicated individuals have helped search for missing children, served as community relations field officers after disasters, worked in local emergency operations centers during disaster simulations and emergency events, assisted with shelter operations, aided coordination at community events and helped other community members be better prepared for disasters.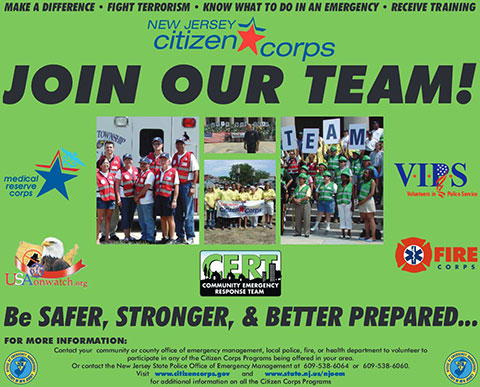 ---