NJDOT sends snow removal
equipment, personnel to Massachusetts


Department answers call for assistance
(Trenton) - New Jersey Department of Transportation (NJDOT) and the New Jersey State Police Office of Emergency Management today announced the Department is sending snow removal equipment and personnel to Massachusetts to assist with the upcoming storm forecast to hit New England in the next several days.
NJDOT responded to Massachusetts' request for assistance by sending the following resources:
Ten (10) Six-ton dump trucks equipped with plows and salt spreaders
Six (6) front end loaders.
Ten (10) Bobcats.
36 NJDOT personnel
"The NJ Department of Transportation is proud to answer the call for assistance from Massachusetts by sending NJDOT crews and equipment in advance of another major storm," NJDOT Commissioner Jamie Fox said. "New England has been hit with historic snowfalls this winter. New Jersey is in a position to help and our crews will complement Massachusetts's efforts to keep their roads clear and safe for motorists."

The deployment of equipment was arranged under the Emergency Management Assistance Compact (EMAC) program. EMAC is a national interstate disaster mutual aid system which the NJ Office of Emergency Management (NJOEM) entered into in 2001. The NJOEM is responsible for managing the program in New Jersey.

"New Jersey benefitted greatly from assistance the State of Massachusetts sent during Superstorm Sandy," said State Director of Emergency Management and Superintendent of State Police Colonel Rick Fuentes. "We are proud to be able help our New England neighbors in their recovery from historic amounts of snow."

NJDOT personnel and equipment left for Massachusetts yesterday and will be deployed for up to seven days. Massachusetts Governor Charlie Baker met the NJDOT crews and equipment when they arrived.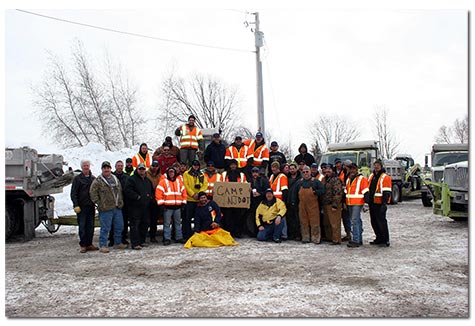 NJDOT personnel and equipment in Boston, Massachusetts.