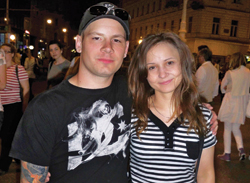 Sgt. Eugene Butkovic meets with his second cousin Nikolina Hobjak for the first time in downtown Zagreb, Croatia. Photo courtesy Sgt. Eugene Butkovic.
---
A patrol notebook containing foreign addresses, social media, and two Croatian Army officers led this New Jersey National Guard Soldier down the road to a family reunion during his Annual Training in Croatia.
Sgt. Eugene Butkovic travelled to Zagreb, Croatia as part of the 50th Infantry Brigade Combat Team's participation in the multinational exercise known as Immediate Response.
Butkovic said his grandfather, Eugene Gvozdenovich, who is now in his 80s, was a Croatian merchant marine from the coastal Dalmatia region as a young man. But when the country was a republic under the former socialist Yugoslavia, the grandfather left in the 1950s because he wanted the opportunity offered in America.
"My grandfather is always talking about the beauty of the country and how the water is so clear," Butkovic said. "When my grandfather found out I might be going to Croatia, he wrote down all our Croatian family members' addresses in my notebook."
He did know one cousin, Kathi Butkovic, an American now teaching at an American international school. He last saw her when he was a teen-ager. But the challenge would be reaching out to another cousin,Nikolina Hobjak. He didn't even know if she spoke English.
When Butkovic arrived at the Croatian Armed Forces Training Doctrine Command's Simulation Center on June 6, the Croatian Chief of Tactical Operations at the simulation center noticed Butkovic's name and started a conversation with him about it. The American sergeant told his story to Croatian Army Lt. Col. Mario Zabetovasky, about having family in the country.
"I was really nervous," Butkovic said. "I didn't even know if I would have time to see some of the family."
Butkovic, who operated the Joint Conflict and Tactical Simulation System during the Immediate Response exercise, said Lt. Col. Zebetovsky called the family on his behalf and the reunion started coming together. A few days later, Croatian Air Force Maj. Danijel Majsec provided transportation so Butkovic could meet Nikolina in downtown Zagreb. "She spoke perfect English," he said.
Lt. Col. Zabetovasky said helping the American Soldier was the least he could do.
"He is a Soldier and his family is here and that is the important thing," Zebetovsky said. "We help one another because we are friends with his family roots in Croatia."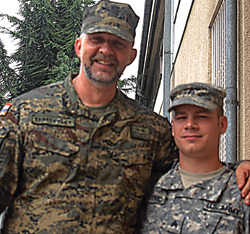 Lt. Col. Mario Zabetovasky, left, Croatian Army Chief of Tactical Operations, stands with Sgt. Eugene Butkovic after the two talked of a family barbeque in Kebel, Croatia. (U.S. Army photo by 1st Sgt. David Moore)
During a professional development day, Butkovic attended a family barbeque in the village of Kebel.
"The Croatian officers jumped through hoops for me to make this happen. The efforts they put in to help me was pretty awesome," he said. "Everyone I talked to in my chain of command was helpful. It seemed liked they felt it was really important for me to see my family."
Along the way to meeting his Croatian family, he also found out there were other family members in the country and is finding them on Facebook.
"Zagreb is beautiful city. The country is beautiful. It was a great experience and I plan on going back hopefully to see the rest of my family," he added.