STAFF SGT. OLIVEIRA: A FALLEN HERO
New Jersey National Guard Soldier remembered as an outstanding NCO
By Staff Sgt. Wayne Woolley, 444th Mobile Public Affairs Detachment


Staff Sgt. Jorge M. Oliveira died at Yahya Khel, Paktika Province, Afghanistan when insurgents attacked his unit with an improvised explosive device. The Soldier was dismounted and conducting a route reconnaissance when the explosive device detonated.

Oliveira spent three years on Army active duty with the 101st Airborne Division before joining the National Guard in 2003.

In Afghanistan, Oliveira's unit is assigned to the Sharana Provincial Reconstruction Team (PRT), which is assisting the Afghan government establish the rule of law and sustainable
economic and social development in the region.


In April, Maj. Gen. Glenn K. Rieth, the New Jersey Adjutant General, met Oliveira and other members of the unit during their training at Camp Atterbury, Ind.

Rieth said Oliveira was one of the most seasoned noncommissioned offi cers on the deployment, having served on a detainee operations mission to Guantanamo Bay, Cuba in 2004, in response to Hurricane Katrina in New Orleans the following year and a yearlong combat tour in Iraq with the 50th Infantry Brigade Combat Team in 2008-2009.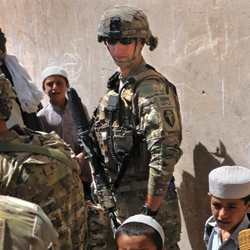 Oliveira had recorded a litany of achievements in his time in uniform. He had been awarded the Expert Infantry Badge; the Air Assault Badge; the Airborne Badge; and the Army Military Mountaineer Badge. He had completed the Primary Leadership Development Course; the Infantry Light Leader's Course; and the Combat Tracker Course and the winter in Fort Huachuca, Arizona. Oliveira was awarded the Army Military Mountaineer badge in early 2011 for completing the winter phase of the Mountaineering Course in Jericho, Vermont. In March of 2011, Oliveira along with the other members of the 2nd Battalion 113th Infantry Security Forces Platoon entered the mobilization phase of their deployment in Camp Atterbury, Indiana. Upon completing mobilization training, Oliveira with the other members of his platoon deployed to Afghanistan in June 2011 where he served as a Squad Leader in a Security Forces Platoon attached to the Provincial Reconstruction Team.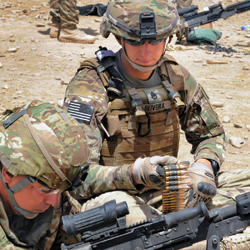 His awards and decorations include the Bronze Star Medal (Posthumous), the Purple Heart Medal (Posthumous), Army Achievement Medal, Army Good Conduct Medal, Army Reserve Component Achievement Medal, National Defense Service Ribbon, Armed Forces Expeditionary Medal, Afghanistan Campaign Medal, Iraq Campaign Medal with two campaign stars, Global War on Terrorism Service Ribbon, Armed Forces Reserved Medal with "M" Device (3rd Award), Non-commissioned Officer Professional Development Ribbon, Army Service Ribbon, NATO Medal with ISAF Clasp, Combat Infantry Badge, Expert Infantry Badge, Airborne Badge, Air Assault Badge, Ram's Head Device.