Airman finds luck on her 'unlucky day'
BStory and photo by Staff Sgt. Wayne Woolley, DMAVA Public Affairs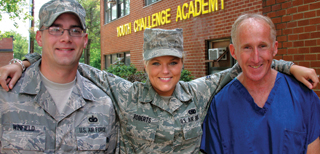 Airman 1st Class Olivia Roberts, center, poses with rescuers Tech. Sgt. Anthony Winfield and John Buckley in front of the New Jersey Youth ChalleNGe Academy building at Joint Base McGuire-Dix- Lakehurst. Roberts was driving home from a dentist appointment on May 13, when she lost control of her vehicle on Route 537 in North Hanover Township.
---
It was a Friday the 13th, a day many consider unlucky. But Airman 1st Class Olivia Roberts believes it was her most fortunate day. She survived a horrific car crash. And then two fellow Joint Base McGuire-Dix-Lakehurst employees risked their own safety in a mad scramble to pull her out from an overturned car.
"It was my luckiest unlucky day," said Roberts, an Airman with the 87th Logistical Readiness Squadron. "What they did for me is beyond amazing."
The afternoon sky was cloudless as Roberts made her way down Route 537 in Hanover Township on the way home from the dentist on May 13. Tech. Sgt. Anthony Winfield, an Airman with the 421st Combat Training Squadron, was on an outing with his wife and son, heading the opposite direction on Route 537. He saw Roberts's car make a sudden, sickening swerve, leave the road, go over a small hill and end up several hundred yards away on its side on Sykesville Road, just off the intersection with Route 537.
John Buckley, a registered nurse with the New Jersey Youth ChalleNGe program, was making his way down Sykesville Road, on his way to his daughter's high school lacrosse game when he came across Roberts's 2007 Daytona Challenger with the driver's side down. Winfield had just called 9-1-1 and was inspecting the car.
"One of the tires was still spinning," Buckley said. He pulled over and both men began tearing at the Challenger's sunroof, Roberts was still buckled up and motionless inside. In an explosion of glass, the roof gave way. Buckley climbed inside. From the way Roberts's head was turned, it was unclear if she was breathing.
Buckley realized two things. The first -- If Roberts needed CPR, he couldn't deliver it in the car. The second: If she was still alive, she might not stay that way if she was not moved. Buckley undid her seatbelt, and he and Winfield carefully pulled Roberts through the sunroof opening.
Roberts regained consciousness almost immediately after being pulled from the car.
"I had no idea where I was or what happened," Roberts said. "All I knew is that these guys kept telling me I would be OK and I believed them."
The ambulance arrived. Buckley, now sure Roberts was going to be OK, left for his daughter's game. Winfield rode with Roberts in the ambulance to the hospital. Roberts's fiancé, Senior Airman Sean Watkins of the 87th Logistic Support Squadron, met her at the hospital.
Roberts's uniform was covered in blood. It wasn't hers. Buckley and Winfield had cut themselves tearing open the sunroof.
"We were going on adrenaline," Winfield said. "We even tried to push the car back to its tires before going for the sunroof.
Roberts was not found at fault for the crash. Although she was behind the wheel of a muscle car, she wasn't driving it like one.
Police accident investigators calculated her speed at the time she left Route 537 to be between 41 and 43 mph – well below the 50 mph limit.
Although a medical evaluation continues, doctors told Roberts it's likely she lost consciousness due to a drop in blood sugar. She had major dental work done 10 days before the crash and had been unable to eat much. She returned to duty four days after the crash.
Although she loved car, which was totaled, Roberts knows that's not what matters.
"What matters is that I'm alive," she said. "And people helped me when I needed it most."
Buckley said his first thought when he saw Roberts's face was that she bears a striking resemblance to his oldest daughter.
"Every parent hopes that if their kid is in the same situation, somebody stops to help," he said.