Decorating his way to "Cake Boss" status

Story and photo by Staff Sgt. Armando Vasquez, 108th Wing Public Affairs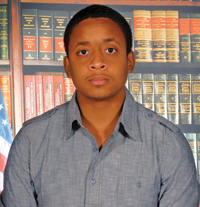 "In my senior year of high school, I had a commercial baking class," said 21 year-old Rashawn Robinson. "The first day of class I picked up the spatula and started decorating cakes."
And for the past three years he has been mastering the art of cake decorating in his civilian life and during drill weekends as a senior airman with the 108th Force Support Squadron at the 108th Wing.
"You can definitely tell he takes pride and enjoys what he does," said Master Sgt. Lauren Holba, base service manager at the 108th Wing, and Robinson's supervisor.
With the use of icing, frosting and other edible decorative elements to make otherwise plain cakes more visually interesting, the art of cake decorating has become very popular in this reality-TV driven culture.
There's the show "Ace of Cakes" on the Food Network; "Amazing Wedding Cakes" on WeTV and New Jersey's own "Cake Boss" on the cable network TLC.
Robinson was well aware of the opportunities that an internship at the "Cake Boss" would open to him. Thus, armed with his portfolio, he met with Buddy's right-hand man, Mauro "Chef Mario" Castano, and was given a tryout, which he passed with flying colors.
Consequently, he was offered a 30-day trial period to bake for the show and displayed his decorating skills.
During his internship, he was able to network with different people and meet new friends, said Robinson. "The experience alone is an amazing opportunity."
"The environment in the show is really fun, and a little crazy with cameras everywhere and people screaming all the time," said Robinson. "My friends bombard me with a million questions about the show, and I gladly answer them with a smile on my face."
"We keep looking for him on TV," said Holba.
Cake decorating was not originally in his career plans, said Robinson. "I never went to culinary art school."
But Robinson said he always listened to what his parents had to say. "My mother and father have always been supportive of what I decide to do. They always say 'just do what you love and everything else will follow'."
And now he finds himself on television and having his work displayed for the world to see.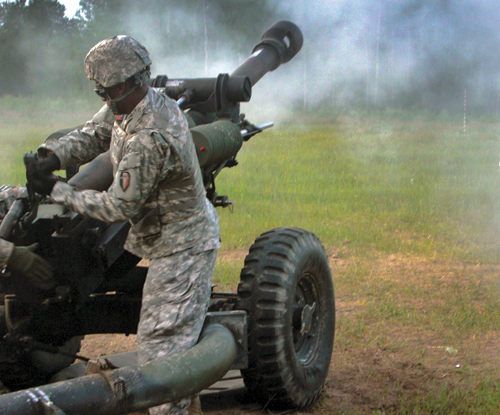 Battalion trains with new howitzers

A gunner from the 3rd Battalion, 112th Field Artillery fires a 105 mm round from an M119A2 Towed Howitzer during a training exercise at Camp Grayling, Mich., from June 11 – 25. This was the first time the Soldiers had conducted field artillery training since August 2007. The battalion was able to certify their howitzer sections on the new artillery weapons. (Photo courtesy 3-112th Field Artillery)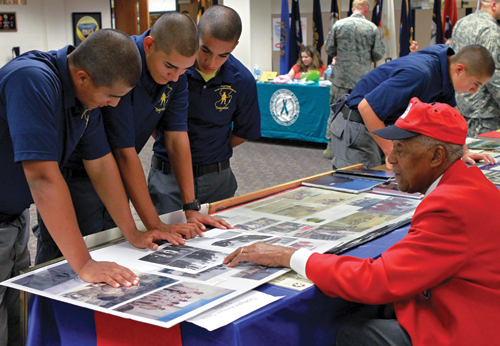 Sharing a life story

Tuskegee Airman retired Tech. Sgt. George Watson Sr. shares his experiences with New Jersey Youth ChalleNGe Academy cadets during the New Jersey National Guard's annual Unity day on June 16. The New Jersey National Guard observed their 13th Annual Unity Day Celebration at Joint Force Headquarters at Joint Base McGuire-Dix-Lakehurst. Through food sampling, music, entertainment, educational displays, contests and giveaways, the NJNG celebrated the ethnic and cultural diversity of the organization. (Photo by Mark C. Olsen, DMAVA Public Affairs)