It has been a year since I witnessed the destruction and devastation of the 7.0 magnitude earthquake that took the lives of more than 250,000 Haitians and left the country in distress.
I returned to Haiti a year after the earthquake on a different mission. When I was there in 2010 with a group of volunteers it was an aid and rescue mission, and now we were returning to support the rebuilding mission.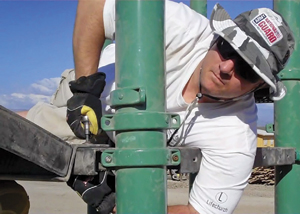 Our mission this time around was to put in a playground and basketball court for a village where displaced Haitians had ended up after the quake. The sponsors had already built more than 350 homes and were in the process of constructing another 150. In between building the playground, placing the basketball court in and conducting numerous food and toy drops; we assisted in the building of some of the homes.
During the eight days we delivered food to more than 1,000 people; we built the playground, and put in the basketball court; we have been told that it is used every day until the sun goes down. I am extremely humbled by the opportunity that I have been given to assist the country of Haiti and I would go back in a minute if asked.
The mission in Haiti is not over and it will take many more years to get the country back on its feet. The question I ask of you is: Will you help?