PRT SOLDIER EARNS U.S. CITIZENSHIP

By 1st Lt. Ryan DeCamp, Paktika Provincial Reconstruction Team Public Affairs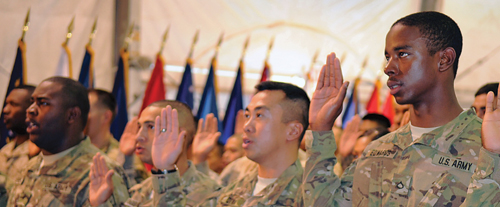 Pfc. Cardon Edwards, right, says the oath of renunciation and allegience during a naturalization ceremony on Sept. 28. (U.S. Air Force photo by Staff Sgt. Makenzie Lang, Paktika Provincial Reconstruction Team Public Affairs)
---
BAGRAM AIRFIELD, Afghanistan - When Cardon Edwards came to the United States with his mother from Jamaica, the 13-year-old couldn't imagine he would fight for the country he was heading to.
Seven years later, the now 20-year-old is doing much more than that. Not only is he a private first class in the U.S. Army, he now has a much greater title – American.
Edwards joined 44 other U.S. Soldiers and Marines from 25 countries in a naturalization ceremony to become American citizens at Bagram Airfield on Sept. 28.
"It's a relief, I'd be lying if I said it wasn't," Edwards said. "My parents are happy to see the steps I've taken and the road I've come down, in joining the Army and becoming a citizen."
His family knows what he's going through. His mother earned her citizenship two years ago. He couldn't go through the same process because he had already turned 18, he said.
The ceremony comes during Edwards' first deployment. The infantryman from the 2nd Battalion 113th Infantry Regiment, is now deployed to Afghanistan as part of the Paktika Provincial Reconstruction Team.
The PRT's main job is to help bring the different levels of government and the province's 400,000 residents together. This way, their futures involve peaceful leadership and development, not insurgency under groups like the Taliban.
Edwards and the rest of his security team make sure the meetings that help move the governance process can happen safely for coalition members and Afghans.
"I have worked with Private 1st Class Edwards since August 2010 to train for this deployment and what I've seen is that though he's a younger soldier, he has the maturity of a seasoned non-commissioned officer," said 1st Lt. John Cossolini, 2-113 platoon leader. "He's mentally strong and physically tough. He has unlimited potential and I see him becoming one of our steadfast NCOs very soon."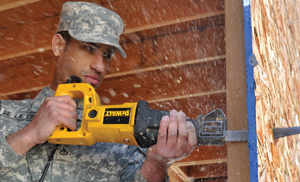 Guard serving the community

Saw dust flies as Pfc. Hector De La Cruz, above, cuts out a window with a reciprocating saw while on assignment with the New Jersey Army National Guard Recruit Sustainment Program. He was among 15 Soldiers who helped rehabilitate two houses in Asbury Park for Coastal Habitat for Humanity on March 19. (Photos by Kryn P. Westhoven, DMAVA Public Affairs)
"There's more opportunities in the U.S. of course, with better jobs, schools and universities," he said. "When the deployment is over I'll head back to school using the G.I. Bill to continue working on an associates in accounting. Then I'll move on to a bachelor's degree."
His platoon leader had nothing but good things to say about one of his most junior soldiers, who was promoted to private first class just six months ago.
"I have never seen his motivation, his trust in his fellow soldiers or his will to fight for his country waiver," Cossolini said.
If anyone had doubt before, that's gone. America is Edwards' country.