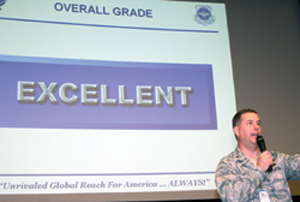 Col. Andrew Molnar, team chief for the Air Mobility Command Inspector General, briefs 108th Wing personnel about the Wing's performance during the Operational Readiness Inspection at the Joint Base McGuire-Dix-Lakehurst theater on June 14. The 108th Wing was inspected by the AMC IG team from June 8 through June 12.
---
Amid wild applause, cheers and highfives, the 108th Wing learned on June 14 they had received an "Excellent" rating from the Inspector General's Office of Air Mobility Command during their readiness inspections at JB MDL.
Present at the IG out briefing were Maj. Gen. Maria Falca-Dodson, commander of the New Jersey Air National Guard; Navy Capt. Andrew Butterfield, deputy commander of JBMDL; Brig. Gen. Michael Cunniff, commander of the 108th Wing; commanders from the 108th Wing groups and various Wing Airmen and their families.
During the tough but fair inspection, they found that very strong leadership and teamwork were clearly evident at all levels in the 108th Wing, said the team of inspectors.
With a tough mission to support operation Odyssey Dawn, and other deployments around the globe, the 108th Wing prepared for two years to undergo the IG inspection.
"Team Air National Guard New Jersey; team joint base. I don't know what to call you, except I know to call you 'Excellent!'", said the IG team chief, Col. Andrew Molnar, as he announced the overall grade of the inspection to the 108th Wing personnel. "This is the best inspection I've ever witnessed and you can take that to the bank."
"'Brave and undisciplined will always lose or be killed by valor with discipline', and that is exactly what I saw in the Air National Guard," said Molnar.
"Teamwork from the joint base with you, and a discipline in every step of the operation at every rank, Airmen, NCO, officer, senior officer, leadership, a round of applause for yourself," continued Molnar as he described his overall observation of the 108th Wing during the inspection.
Cunniff thanked the IG team for their professionalism and fairness during the inspection.
In addition, Cunniff said he was proud of the Airmen of the 108th Wing for their hard work and excellent attitude throughout the inspection, and told his Airmen to thank their families for the sacrifices they made during preparations and deployments throughout the year as the Wing got ready for the inspection.
"I am extremely proud to be your commander," said Cunniff.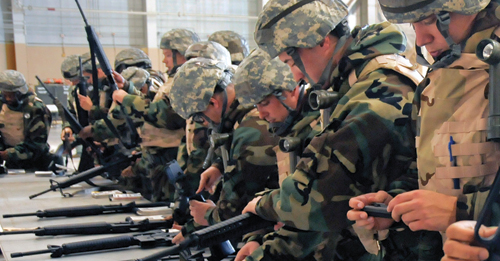 The ability to survive
Airmen of the 108th Wing participate in Ability to Survive and Operate (ATSO) rodeo on June 11, at Joint Base McGuire-Dix-Lakehurst during the wing's Operational Readiness Inspection. ATSO prepares Airmen for real world operations by grounding them in everything from contamination avoidance, basic lifesaving, explosive ordnance reconnaissance and decontamination procedures. (U.S. Air Force by Senior Airman Adrian Rowan, 108th Wing Public Affairs)