Christine Bakter, Deputy Director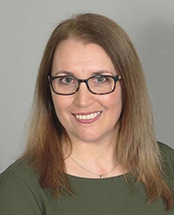 Christine Bakter joined the Office of the Ombudsman for Individuals with Intellectual or Developmental Disabilities and Their Families in February 2020. In this role, she supports the Ombudsman's efforts to respond to individuals and families, ensuring they receive the supports they need and deserve.
Prior to joining the Office of the Ombudsman, Christine served as Director of Development for the Mercer County affiliate of the National Alliance on Mental Illness (NAMI), where she was responsible for all fund development planning, event execution, donor relations, communications and grant writing for the organization. Early in her career, she worked in the private sector as a market research analyst and project manager, specializing in corporate reputations and customer satisfaction research.
Christine's journey as a disability advocate began in 2001, when her oldest son, Alex, was diagnosed with autism spectrum disorder. Alarmed at the lack of autism awareness and weak federal response to autism at the time, Christine became involved with the Princeton-based National Alliance on Autism Research (NAAR), which later merged operations with Autism Speaks. She served as Walk Chairperson for the Central New Jersey Walk FAR for NAAR and Autism Speaks Walk events from 2004 to 2007; during her tenure the event raised $900,000 and doubled in attendance. During these years she also participated in the federal and state advocacy programs of both organizations where she effectively built relationships with several Members of Congress, garnering support for the Combating Autism Act and its reauthorization, the Department of Defense Autism Research Program and the Achieving a Better Life (ABLE) Act. In 2007, she became New Jersey's first Statewide Advocacy Chair for the New Jersey Chapter of Autism Speaks and worked closely with fellow advocates to pass insurance reform requiring state-regulated health plans to cover therapies for individuals with autism and I/DD, including Applied Behavioral Analysis..
Christine is the 2008 recipient of the national Autism Speaks Founders Award, received for her sustained commitment to advancing advocacy, research, family services and awareness.
As a resident of Hamilton Township in Mercer County for more than two decades, Christine also served as an appointed member of the Hamilton Mayor's Commission on Persons with Special Needs and as a Special Education Parent Representative of the Hamilton Township Elementary School Principal Search Committee in 2012.
Christine holds a Bachelor of Arts degree in psychology from The College of New Jersey.
Christine can be reached via email christine.bakter@treas.nj.gov or 609-984-3981.