Charles Dodge, Operations Outreach Manager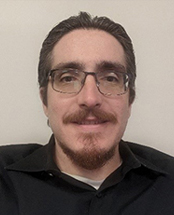 Charles Dodge joined the Office of the Ombudsman for Individuals with Intellectual or Developmental Disabilities and Their Families in March of 2022.  As Operations Outreach Manager, he will lead and manage the Office's digital media outreach effort by ensuring that our website and social media are a source of up to date and useful resources for individuals and families.
Previously, Charles served as Information and Referral Specialist and Social Recreation Coordinator at the Alliance Center for Independence in Edison, NJ. In this role he connected individuals in the disability community with resources, programs, and organizations that helped maintain and increase independence. He also organized a facilitated community based recreational events. Prior to working in disability services, he was an English teacher.
Charles was born with a developmental disability - Spina Bifida - and is a wheelchair user. His path to disability advocacy started at a young age speaking up to get the services he needed to maintain an independent life. He started his professional career as a paraprofessional teacher assisting a student on the autism spectrum. After a number of years working as an English teacher, Charles made the decision to incorporate his passion for disability advocacy into his professional life. He was employed by the Arc of Union County as their volunteer coordinator. He volunteered for the Alliance Center Independence, becoming involved with their annual Disability Pride Parade which led to his employment with ACI.
Charles holds a Bachelor of Arts in English and English Secondary Education Certification from Kean University.
Charles has spent most of his life involved in adaptive sports including track and field, wheelchair basketball, surfing, and skydiving.  
Charles can be reached via email charles.dodge@treas.nj.gov or 609-777-0426.