Commissioner
New Jersey Department of Transportation
The Honorable James S. Simpson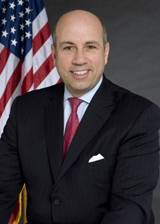 In his capacity as Commissioner, Jim also is Chairman of NJ TRANSIT, the New Jersey Turnpike Authority, the South Jersey Transportation Authority and the Transportation Trust Fund Authority overseeing a total of 16,000 employees, approximately $5 billion in capital funds and almost $4 billion in operating funds. Jim also serves on the Motor Vehicle Commission, the State's three Metropolitan Planning Organizations and the State Planning Commission.
Prior to his appointment as Commissioner of Transportation he served as Chairman of both an infrastructure management company and an international relocation company.
In 2005, President Bush nominated Jim to serve as Administrator of the Federal Transit Administration (FTA), serving until the end of 2008. In 2004, Jim was appointed by President Bush and was Chairman of the St. Lawrence Seaway Board at the US Department of Transportation. Jim has been confirmed by the United States Senate twice. At the FTA, Jim managed an annual budget of more than
$10 billion and had oversight of $30 billion of transit construction.
In 1995, New York Governor George E. Pataki appointed and the Senate confirmed Jim as a Commissioner of the New York State Metropolitan Transportation Authority, where he served for 10 years.
Governor Pataki also appointed Jim as a member of the New York State Job Development Authority. Under Mayor Rudolph Giuliani's administration, he was appointed Honorary Deputy Police Commissioner for the New York Police Department. Jim also represented the New York City Council at the New York State Financial Control Board for nine years and served on numerous
not-for-profit boards.
Jim worked as a tractor-trailer driver and salesman while attending St. John's University where he graduated Magna Cum Laude. After graduation, he built a small trucking company into an international transportation company in less than 10 years and served as President for 25 years. At age 36, Jim was a finalist for the National Entrepreneur of the Year Award. Jim is a David Rockefeller Fellow, a British-American Fellow; a pilot rated for Jet Aircraft and has driven motorcycles for more than 35 years. Jim is married with four children.