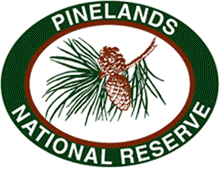 Pinelands images
Visiting the Pinelands
Featuring 1.1-million acres of dense forests, serene rivers, picturesque parks, rare plants and animals, miles of blueberry fields and cranberry bogs and a rich heritage dating from prehistoric times, the New Jersey Pinelands is a prime recreational destination.
Residents and visitors alike have come to discover that the Pinelands, or Pine Barrens, is both an ecological and recreational gem located within a close driving distance to Philadelphia, New York, Baltimore, Washington and the Jersey Shore.
Day-trippers can partake in a wide-range of activities, depending on the season. However, visitors are encouraged to spend several days to gain a full-appreciation of the region and its vast natural, cultural and historic resources. You can start your visit at the Candace McKee Ashmun Pinelands Education Exhibit, which is located at the Pinelands Commission's office on 15 Springfield Road in Pemberton, NJ.
The Pinelands National Reserve stretches across portions of seven counties in southern New Jersey, covering about 22% of the state. The area is comprises both public and private lands.
Public lands include parks, forests, wildlife refuges, and military bases. Private lands include 56 com­munities that range in size from small from villages to large towns. Nearly 500,000 permanent residents live in the Pinelands National Reserve.

Videos of various Pinelands designations are featured below.
Click here to learn more about recreational opportunities and locations in the Pinelands.
Things to keep in mind when in the Pinelands
Be on the lookout for insects, ticks and poisonous or irritating plants.
Plants, wildlife, and cultural artifacts on public lands are protected by state or federal law.
About two-thirds of the Pinelands is privately owned; please be respectful of private property and residents.
Please help preserve this unique treasure and leave as you found it so that it will remain for future generations to experience.