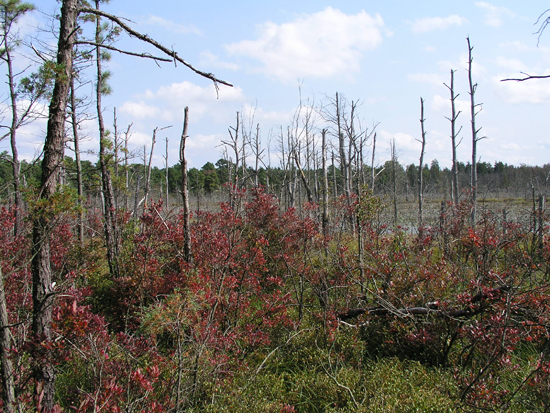 The Pinelands Commission completed a project aimed at better protecting critical natural resources in the Toms River watershed of Jackson and Manchester townships.
In 2003, the Commission established a special task force to develop a plan for protecting critical natural resources in the Toms River Corridor in the face of growing concerns over the potential for development conflicts in the region. The area is home to an abundance of important land and water resources, including more than a dozen plant and animal species that are classified as threatened or endangered. At the same time, the area features significant swaths of developed land with a population of several thousand people. The project area covers nearly 17,000 acres in the northern Pinelands of Ocean County.
The Task Force's efforts culminated in issuance of the Toms River Corridor Plan in 2004. The Plan recommended use of a combination of planning, zoning and resource protection tools in the area. A series of Pinelands management area changes were proposed to provide greater protection of water quality and critical wildlife habitat; enhance habitat buffers, and establish connectors between large areas of undeveloped and protected habitat. Reductions in permitted housing densities were also recommended, as was mandatory on-site cluster development. The Plan also called for enhanced use of conservation easements and permanent land protection efforts.
Manchester and Jackson townships subsequently adopted amendments to their master plans and ordinances to implement the management area and zoning changes recommended in the Plan, resulting in significant decreases in permitted development intensities throughout the region. Mandatory clustering provisions were also adopted by both municipalities for their Forest and Rural Development Areas. To further increase protection of sensitive areas, both municipalities established an expanded wildlife habitat buffer along the main stem of the Toms River.
The Commission targeted a significant portion of its Pinelands Conservation Fund to the acquisition and protection of lands in the Toms River Corridor. As of June 2014, the Commission had contributed approximately $2.8 million in PCF monies to assist Ocean County and the Trust for Public Land in permanently preserving 875 acres within the Toms River Corridor.