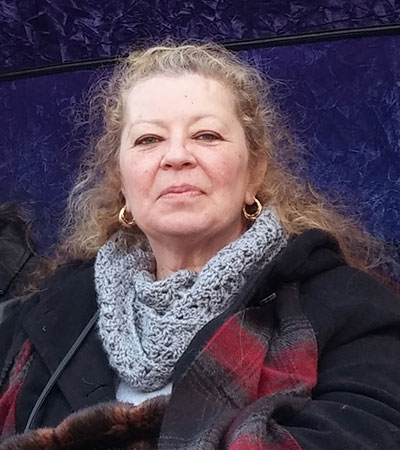 Gail "Tòkèkkëmpàhko (Gentle Leaves)" Gould, born to the late Frank Fisher & Jeannette Carpenter-Fisher-Pierce in Bridgeton NJ on January 22, 1960. She began her journey to the creator on May 31, 2023, surrounded by the love of her family in her home in Quinton Township, NJ.
Gail had many titles; among the most important of those are 'Mom','Grammy', and wife.
Gail attended Bridgeton Highschool, graduating in 1978. At the conclusion of her time in high school, she worked for many different institutions and establishments. This includes Atlantic City casinos, Inscon Cable, Leones Industries, Wheaton Industries, Farm Rite, Owen's Supply, etc. However, she took most pride in her involvement in the various jobs and committees within the jurisdiction of her people; The Nanticoke Lenni-Lenape Tribal Nation of New Jersey. She was heavily involved in many aspects of supporting her tribal family, both as an employee and a volunteer for majority of her life. This included coordinating the annual Pow-Wow, assisting with elders and elder luncheons, high involvement with Cultural Retention and various youth camps, and so much more. Additionally, Gail spearheaded and laid the ground work for the museum and performing arts center that will come to be known as Achimwit of the Nanticoke Lenni-Lenape. But, most importantly to her, she played a crucial role in supporting tribal youth, both through action AND example.
Even in her 50s, Gail continued to inspire by pursuing additional degrees in business, successfully obtaining her Associate's Degree from Rowan, previously known as Cumberland County College, and continued on to obtain her Bachelor's Degree from Wilmington University. She proved that you are never too old to chase a dream.
Gail is survived by her husband: Chief Mark "Quiet Hawk" Gould, her siblings: Cheri Pierce, Deborah Pierce, Michael Pierce, and Christopher Fisher, her daughter: Lia "Watching Sparrow" Gould, her grandchildren: Braiden "Bright Spirit" Gould-Rugenus, Mathyias "Laughing Wolf" Ellis, Li'Ana "Little Yellow Bird" Ellis, and Kai'Lyn "Strong Spirited Hummingbird" Ellis. She also leaves to cherish her memory and name an abundance of extended family members, including her daughters and grandchildren acquired through marriage but she has always viewed as her own, her son in-law, and a handful of nieces and nephews; many in which she had been very close to. Whichever family member takes up the mantle on putting together a mean succotash has very big moccasins to fill.
Gail has touched all souls she has come in contact with, even if for just a short period of time. Her family often made jokes of her willingness to engage in conversation with anybody, anywhere, whether she knew them or not. It was truly one of her best qualities.
Gail has made her entire family proud, and she will be truly missed.
Làpich knewël, Tòkèkkëmpàhko. Ktaholël!
https://www.sraywebsterfuneralhome.com/obituaries/Gail-Gould-2/#!/Obituary