Congratulations to our 2021 New Jersey Ballot Bowl Winners. Thank you to all the winners and to all the schools that participated in this year's New Jersey Ballot Bowl. Your hard work improved voter and civic engagement of our youth across New Jersey and strengthened our democracy.
Conference 1: Montclair State University
Conference 2: The College of New Jersey
Conference 3: Raritan Valley Community College
Conference 4: Berkeley College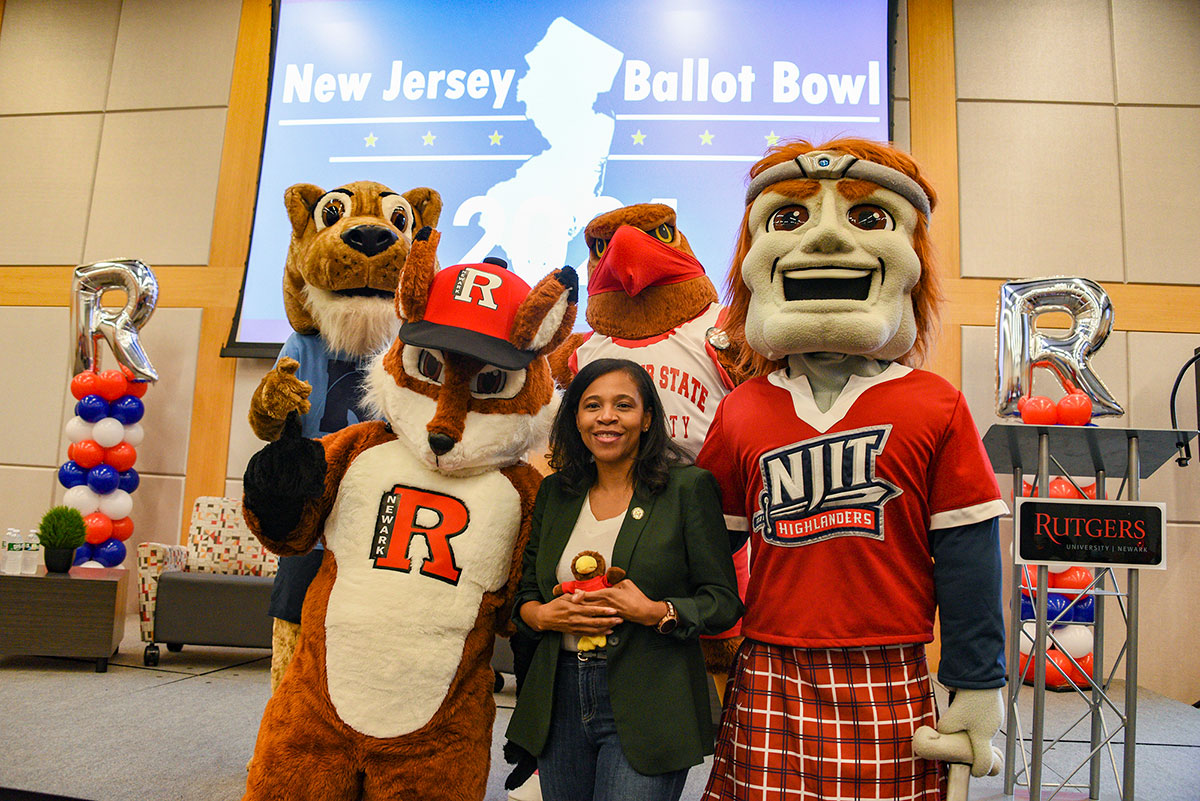 Civic engagement is key to our civic health. A core mission of the New Jersey Department of State is to promote civic engagement through voting. We want to ensure that everyone who is qualified to vote is encouraged and unencumbered in casting their ballot. That way, we can live up to the promise of our founding – that all of us are created equal and deserve every chance to live out our dreams.
Every election matters—this year New Jersey will elect a governor, 120 state legislators, and hundreds of county and local leaders and, for the first time, Early Voting will be available. 2021 also marks the 50th anniversary of the 26th Amendment, which lowered the voting age from 21 to 18. Since the Ballot Bowl is led by and for students, we encourage participants to explore what this historic expansion of the youth vote means for your generation and our democracy.
The 2021 NJ Ballot Bowl will be a joint effort of the New Jersey Department of State and the ALL IN Campus Democracy Challenge. In past Ballot Bowls we have focused only on the number of voter registrations to determine our winners.
This year will be a bit different.
We are also counting pledges to vote in the competition. Winners will be determined by the combined total of voter registrations and pledges to vote. Voter registration is an initial step in the voting process, but not the only step. So this year, the competition will also reward the teams that get the most commitments to vote. This isn't about a specific candidate, but about the value of participating in our democracy and committing to showing up for your community.
We'll start the competition on September 2nd, and have a formal Kick Off with a statewide event on Constitution Day, September 17th. Teams will work to compete through Election Day and we'll close the season out with a Touchdown Ceremony on November 9th.
The following schools have signed up to participate in the 2021 Ballot Bowl:
Bergen County Community College
Berkeley College
Brookdale Community College
Caldwell University
County College of Morris
Drew University
Hudson County Community College
Kean University
Mercer County Community College
Middlesex County College
Montclair State University
New Jersey City University
New Jersey Institute of Technology
Passaic County Community College
Princeton University
Ramapo College of New Jersey
Raritan Valley Community College
Rider University
Rowan University
Rutgers-Camden
Rutgers-New Brunswick
Rutgers-Newark
Sussex County Community College
The College of New Jersey
William Paterson University of New Jersey
To sign your campus up to participate in the 2021 Ballot Bowl email BallotBowl@sos.nj.gov, with your contact information, including a phone number, and in the subject line "Ballot Bowl Signup." Once you're registered, we'll get your team what it needs to hit the ground running in September.
We're really excited about this year's Ballot Bowl, its new format, and our joint effort with our great partner ALL IN. We are looking forward to working with each of you and your teams. If you have any questions, please reach out to us at BallotBowl@sos.nj.gov.
Good Luck to all of the schools and teams participating!