Katherine Pappas, a senior at Lenape High School in Cherry Hill, and Yorgos Vassiliou, a junior at Bergen County Academy in Hackensack, were named the winners of the second annual NJ Hellenic American Heritage Commission Essay Contest & Leontarakis Family Scholarship Awards during the Commission's Greek Independence Day Celebration on March 23, 2022.
The Statewide Heritage Commission challenges the Greek youth of NJ to explore how their Hellenic heritage impacts their lives and are asked to articulate their thoughts through an annual essay contest. This year's essay topic questioned how cultural treasures and unique artifacts provide memories of the past that help maintain a connection to one's history and culture: Should cultural treasures, which are a source of national pride, historical legacy and cultural and religious identity, be returned to their country of origin? Examples of such treasures may include the Parthenon Marbles, artwork stolen by Nazi Germany, or misappropriated artifacts maintained in private collections throughout the world.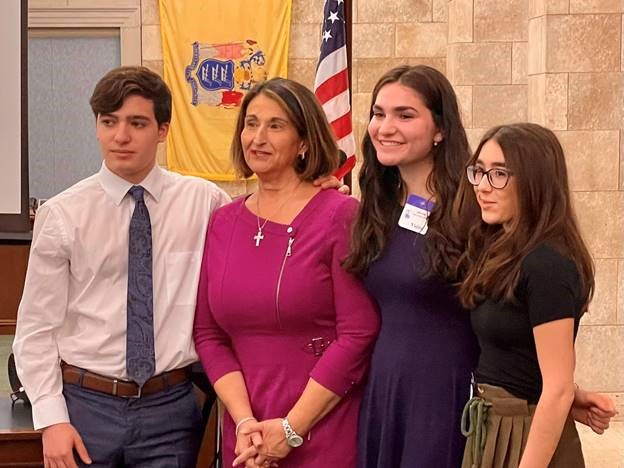 Pictured (left to right): 2022 Award Recipient Yorgos Vassiliou, Hellenic Commission Member Evellyn Tsiadis, 2022 Award Recipient Katherine Pappas, and 2021 Award Recipient Rafaella Lambrinos.