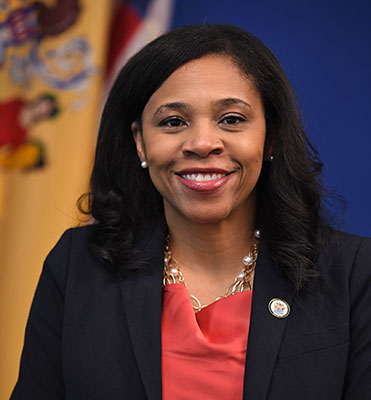 Tahesha Way, Esq.
New Jersey Secretary of State
During a career that has spanned over two decades, Tahesha Way, Esq. has been a judge, educator, public servant, and committed to numerous philanthropic causes.
Nominated for appointment by Governor Phil Murphy on December 18, 2017, Ms. Way was sworn in as New Jersey's 34th Secretary of State on February 26, 2018. Prior to becoming Secretary of State, Secretary Way was an Administrative Law Judge for the State of New Jersey. In 2006, Secretary Way was elected to the Passaic County Board of Chosen Freeholders and served as the Freeholder Director in 2009. She also served as a council member for the New Jersey Highlands Water Protection and Planning Council. She is the former president of the Women Empowered Democratic Organization of Passaic County, an organization dedicated to empowering Democratic women by increasing their participation with the goal of achieving greater equality in the political process. She served as a board member for Celebrate New Jersey Now, a social welfare nonprofit that promotes voter engagement and small business growth in the state. Secretary Way also serves on the Board of Directors for the Institute for Women's Policy Research, a leading national think tank geared towards advancing dialogue and policy for improving women's lives and their families.
Secretary Way cultivated her commitment to public service while earning her undergraduate degree at Brown University. While attending Brown, Secretary Way served as the Vice President of the NAACP, President of Alpha Kappa Alpha Sorority, taught religious education, and was a radio announcer for WBRU-FM. Upon graduation from Brown, Secretary Way attended the University of Virginia School of Law at Charlottesville. During law school, Secretary Way served as a law clerk for the Virginia Legal Aid Society, the United Steelworkers of America, and Polygram. Secretary Way also served as the Social Chair for the Black Law Students Association, acted as a Peer Advisor, a Big Sister with Action for Better Living, and also was a member of the Articles Review Board for the Virginia Environmental Law Journal.
Secretary Way provided legal research, editing segments, and writing scripts and trial stories for the Executive Producer of the "Prime Time Justice Show." She then became an associate at the general practice law firm of Steven A. Varano in Totowa and an Adjunct English Professor at Fairleigh Dickinson University. She has also taught administrative law and practice at FDU and presented on this topic for the New Jersey Institute of Continuing Legal Education. Secretary Way has also served as special counsel for the Passaic County Board of Social Services overseeing all agency litigation.
Secretary Way has been a member of the New York Football Giants Wives' Organization, the New Jersey State Bar Association, Garden State Bar Association, National Association of Women Judges, Association of Black Women Lawyers, Passaic County Bar Association, and the New Jersey Women's Lawyers Association. Secretary Way is a mother to four daughters and is married to Charles Way, a former NFL New York Giant who has had a career with the League for over 21 years as a player, and team and league executive. The Way family resides in Wayne and attends the Hawthorne Gospel Church.